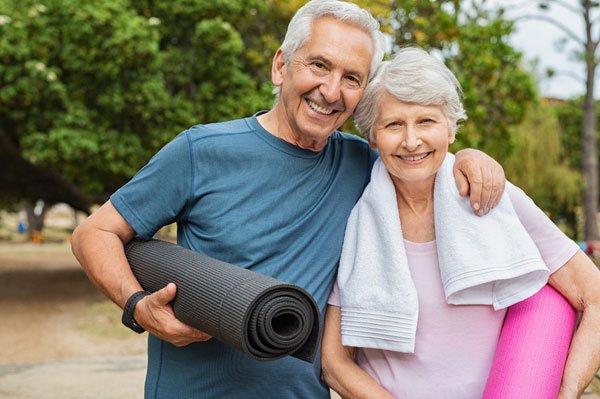 Let's Get Active!
If you are looking for one of the best exercise resources for seniors and the elderly on the web, you found it with Eldergym Senior Fitness!
You can do it!
This website will help you to discover the revitalizing power of exercise; inspire you to feel more energized, and ready for your day; help you to get rid of those negative thoughts about your age, health conditions or physical body; teach you how to achieve real and objective goals with activities that you enjoy doing; and encourage you to take genuine steps toward health and happiness.
"Why am I so weak?"
As a Physical Therapist I have many senior and elderly patients who are referred from their doctor because they have fallen, are having trouble standing up, or just can't function as well as they used to. What is the problem? Generally it is inactivity.
Studies have shown that it only takes a few days of lying in bed to start losing your strength, flexibility and balance.
Once this happens you are at risk of beginning the downward spiral. What is the downward spiral you ask?
The Downward Spiral
We now know that staying active is at the core of successful aging. Countless studies have shown that exercising has a protective, almost magical effect, on our body and mind.
Likewise, inactivity is at the core of what I call the "downward spiral".
Well, let's say you are feeling under the weather one day.
You are retired so end up spending a few days in bed or on the recliner watching TV.
After a while the chores start piling up. Well, you are feeling a little better by now, so you get to work. The first thing you notice is how much weaker you are.
You find it harder to stand, go up stairs, lift the laundry basket, and reach up to the cupboard for a plate.
Finally you get up one morning and… "oops" lose your balance — falling on the floor!
If your hip is not broken you likely have a nasty bump somewhere.
The pain causes you to spend more time in bed… day by day getting weaker and weaker. Then out comes the cane or walker.
You begin to go outside of the house less and less because it is harder to walk.
Daily chores and activities become increasingly more difficult like cooking, shopping and taking a shower. You spend more time in the recliner and bed.
Well…you get the picture.
Moral of the story? Yes, you guessed it…Use your head…don't stay in bed!
"I'm worried about my mom and dad"
On the other hand, maybe you are the child of an elderly adult. When your parents live alone and are inactive, you may worry about him or her falling at home.
This is often a big concern of family members.
Exercising and staying active will improve their chances of staying safe.
Staying active, sensibly exercising and following a healthy lifestyle can add years of productive and functional living to your life.
Explore our site for helpful information and exercise videos to start your journey to greater strength and better balance with exercise for seniors and the elderly.
Where do I begin?
Well, it took a while to get in the shape you are in. Remember to take small steps in the beginning. No need to hurry. Your body requires from 4 to 6 weeks to become accustomed to a new activity or exercise program.
This is true especially if you have been inactive for a long time.
Try exercising for a few minutes a day at first. Gradually build up to 30 minutes twice a week.
From there try exercising 3 days per week as your strength and endurance improves.
Ok, I'm ready. What do I do?
Start with posture
First let's learn correct posture before you start in order to help maximize the benefits of exercise. Watch our 6 posture videos for important exercises.
Breathing
Review the proper techniques of breathing to improve your lung function and energy level. This video will show you how.
Flexibility
Increase your flexibility to allow full motion in your shoulders, hips, and legs with these exercises. Watch our 24 upper and lower body stretching videos for valuable instruction.
Strength
Build strength in the arms, legs and back to greatly enhance your functional independence with our 24 upper and lower body strengthening videos.
Endurance
Gain endurance and improve your ability to walk and participate in energetic social activities like dancing and nature outings.
Balance
Develop better balance to increase your safety and help prevent falls. Watch the 12 best balance exercise videos now.
Join our Facebook Private Group
Eldergym Academy Tour
Resources Check For Safety
https://www.cdc.gov/steadi/pdf/STEADI-Brochure-CheckForSafety-508.pdf